Since I am not born to be a "tech" girl, it takes a bunch of work when I try to use new website services. While I finally started to get a hang of Blogger and Google+ tools, I worked on my Bless Hue Facebook page set-up today.
Here is how it turned out.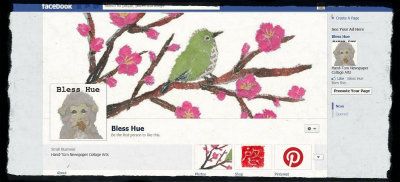 For those of who have an Etsy shop and its Facebook page, I would recommend this useful free app called "
Static HTML
" from
Woobox
. You can directly bring customers to your Etsy shop from your Facebook page with one click by utilizing
this app, unlike the other apps that creates another shop page.
I learned something new again.
It is still under construction, but please drop by Bless Hue's facebook page (https://www.facebook.com/BlessHueShop) when you have time :)